APRIL 1, 8 -10PM • STRINGZVILLE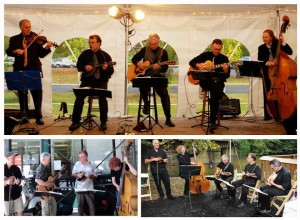 Stringzville is a jazz quintet that performs jazz standards with a bit of Gypsy Jazz and Bossa Nova thrown in to spice things up. Individually, Stringzville's members have their roots in many musical genres, but all the members of Stringzville have one thing in common: they share a passion for acoustic string jazz music, which they define as jazz played on acoustic stringed instruments. Acoustic string jazz greats Joe Venuti and Eddie Lang, Django Reinhardt and Stephane Grappelli, and Henry "Homer" Haynes and Kenneth "Jethro" Burns — not to mention the unsung bassists and rhythm guitarists who helped these jazz greats to really swing – are but a few who serve as Stringzville's musical inspiration.
May 6, 8 -10PM • The Hazelrigg Brothers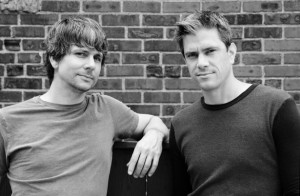 George and Geoff Hazelrigg are multitalented brothers and highly accomplished musicians. Bassist, Geoff, pianist, George, and joined by drummer John O'Reilly Jr., the trio presents an ingenious blend of classical, rock, and jazz elements. Their repertoire ranges from Jimi Hendrix and Led Zeppelin, to baroque and 20th century classical music. They have most recently recorded with genre bending artists Autre Ne Veut (Auther Ashin) and Shy Girls (Dan Vidmar).
For more jazz throughout the state, www.NJJazzList.com
Herb Eckert Auditorium in the Senior Center
South Brunswick Municipal Complex
540 Route 522, Monmouth Junction
Admission $6 at the door
Doors open 7:30pm, 732.329.4000 x7635 • arts@sbtnj.net