The Jazz Café
Herb Eckert Auditorium in the Senior Center
South Brunswick Municipal Complex
540 Route 522, Monmouth Junction
Admission $6 at the door
Doors open 7:30pm, 732.329.4000 x7635 • arts@sbtnj.net
No reservations, no advance ticket sales
MAY 5, 8PM

–

THE CAROL HAMERSMA TRIO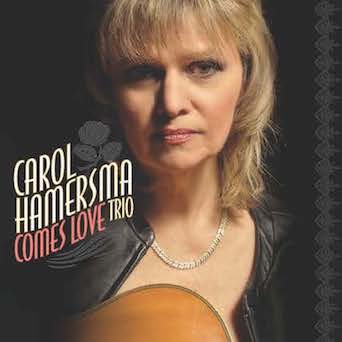 The Carol Hamersma trio includes Carol on guitar and vocals, husband Steve Burke on bass, and Glenn Weber on drums. The group has been performing together for over 15 years. They have recorded 2 CDs "Out of My Head" and "Comes Love". The CDs were premiered at Trumpets Jazz Club in Montclair where the group performs regularly.The band has been very active in the metropolitan area, playing clubs, restaurants, concerts and festivals.The group most recently appeared on the annual Seton Hall jazz faculty concert at the South Orange Performing Arts Center. In addition, each has their own freelance careers playing with various bands in a variety of venues. Carol also performs classical repertoire with the Metropolitan Guitar Trio as well as in orchestras for musical productions, which have included Ragtime, Man of La Mancha and most recently Godspell. She received her Bachelor's in classical guitar from the Mannes College of Music in NYC and her Master's in Jazz Studies from Queen's College. She is currently adjunct faculty for County College of Morris and Seton Hall University.
The concert will include original arrangements of jazz standards by composers such as Gershwin, Porter, and Lennon/McCartney as well as Antonio Carlos Jobim of Brazil. Carol will also sing some Portuguese, Spanish, and Italian, to the infectious rhythms of bossa nova, salsa and swing. Come out for an entertaining evening of romantic and exciting music.
September 8 – Shikantaza (BYOB)
October 6 – Blue Jersey Band
November 3 – Radam Schwartz
December 8 – To Be Announced
For more jazz throughout the state, www.NJJazzList.com
Herb Eckert Auditorium in the Senior Center
South Brunswick Municipal Complex
540 Route 522, Monmouth Junction
Admission $6 at the door
Doors open 7:30pm, 732.329.4000 x7635 • arts@sbtnj.net
© 2012-2015  South Brunswick Arts Commission. All rights reserved.